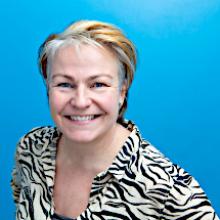 Helen began her career in the early 90's in Health and Social Care supporting people with SEND and challenging behaviour across a variety of Social Care settings. At the same time, she volunteered for many years with a ground-breaking project using outward bound activities to boost skills and confidence in people most at risk of being excluded.
Whilst managing Residential Care Homes, Helen delivered extensive training specialising in inclusion, equality and diversity which informed her later work as a Professional Advocate.
Helen's strong emphasis on reflective practice, communication, teamwork and positive leadership helped her transform services to CSCI 'Excellent' standard. One of her core strategies to deliver best practice was the provision of quality supervision for all staff to build a team's capacity to excel.
After living in South Africa and South America Helen relocated to the South Coast in Brighton and took her passion for Personal Development one stage further, training as a coach in 2008 – 2009.
Initially, Helen worked as an Associate with a successful culture change organisation to design and deliver their events; from small intimate workshops to large scale conferences. Helen has a track record of creating innovative programmes and workshops that deliver powerful outcomes.
In 2010, Helen set up her own Training and Consultancy Company which was successful in gaining local authority and third sector contracts in Adult Social Care. Her innovative and creative approach used film-making, graphic facilitation and engaging workshops and events to promote Person Centred Approaches across East Sussex with an emphasis on community building. The team contributed to practice inquiry on Supervision for the Social Care Institute for Excellence (SCIE).
Helen has always maintained her own CPD, adding to her toolkit of skills: NLP, DISC profiling, PATH, Transactional Analysis, Appreciative Inquiry, Thinking Environment, Person Centred Coaching techniques and Reflective Practice and she brings a range of effective techniques to all her work.
Helen has designed and delivered bespoke coaching solutions for managers and supervisors in education, private and third sector organisations. She inspires key leaders to bring out the best in themselves and their teams using coaching approaches in Supervision.
Over several months in summer 2014, Helen was the Subject Matter Expert on Personal Development in the creation of an exciting new online programme for City and Guilds.
From 2014 Helen expanded her skill set in the Youth Sector, helping young teenagers enhance their future potential through an active and intensive personal and social development programme with a social action focus. She ensured all young people could successfully access the programme, regardless of their status; whether excluded or disengaged from education, offenders, refugees and asylum seekers, with disabilities, in care or young carers. Safeguarding and quality support were a key factor in dealing with common incidents facing young people including anxiety, depression, self harm and mental health issues.
Helen has undertaken additional training herself to enable her to train, lead and manage large staff teams to provide safe, suitable and relevant services. As in all her work, seeing young people shine has been the reward for the hugely responsible and demanding positions she has held.
Witnessing increased wellbeing, resilience, motivation, confidence and broader horizons for hundreds of teenagers led Helen to professional training in Coaching in Education in 2016.
Currently, in addition to offering regular team build events, Helen is also trained and experienced in many extreme empowerment techniques, enabling her to offer powerfully transformational workshops for any individual or team. Linking cutting edge psychology with inspirational seminars and dynamic activities is a potent mix that yields incredible results for the participants.