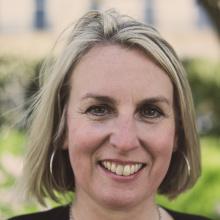 Associate Trainer(E Safety)
I am Rachel Nahum and I live in Hastings and I love all the countryside around here, it has been amazing getting to know all the woods around here during the lockdown.
I am a qualified youth worker and Citizenship secondary teacher.
As an online safety expert, I develop and deliver training for professionals, parents/carers and children and young people about internet safety. These sessions constantly evolve to reflect the audience and latest trends with online behaviour. I facilitate Q &A within each session.
I have written successful training packages won through the tender processing for local authorities including​_ 'Safeguarding in a Digital World' which I regularly deliver for Brighton and Hove Council.
I have been delivering training since 2011 and during 2020 extended to ensure that I can confidently deliver training online on Microsoft Team, Zoom and Google Classroom.
I am passionate about participation and will happily co facilitate with young people if they want to help.
I do also work part time for the East Sussex Youth Employability Service (YES) as the Alternative Provision Co-ordinator.