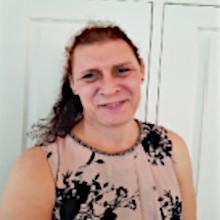 Associate Trainer/LGBT Advisor
Liz has worked in health care for 30 years, been a Qualified Nurse 26 years and been a mentor/teacher/trainer for 22 years. Having worked across the public, private, charity sectors and worked with clients/carers and agencies in several clinical disciplines- ITU- Renal- Respiratory-Hospice- Site Clinical Manger.
Liz brings a wealth of knowledge, skills and experience in dealing with everything from simple medical issues, infection control to being a fire officer, part of a trauma/medical emergency team. With a passion and focus on care that is patient centred- advocating personal choice – encouraging ownership accountability and responsibility for all the staff she works with and the standards of care and communication with staff and patients alike.
Liz has a strong work ethos- starting her 1st job on the same day she left school- as a waitress- progressed through retail and industry. Being hospitalised as a patient for knee surgery was a turning point in her life- and on discharge decided that Nursing was the career for her and has not looked back since. Following qualification as a Registered General Nurse with a Diploma in Health Care- following the birth of her 2 boys – went on to complete a part time degree and gained a Bsc(hons) in Professional Nursing Practice. Education/training has remained a driving passion, under pinning her career and has since completed a Post Graduate Certificate in Managing Health and Social Care- recently finished another level 6 module focussing on Substance Abuse and Health and is currently looking to do a Master Programme Part time.
Liz has always tried to make learning fun and interactive but strives hard to embed the knowledge and skills she teaches onto individual examples-whether it be with nursing students- newly qualified doctors or even staff from different clinical backgrounds. There is a genuine focus on looking at the person, the individual – the story behind where the patient currently is rather than a fixation on a single diagnosis or reliance on striving for "normal results".
Working within and for the LGBT+Q community Liz is no stranger to adversity, discrimination and harassment – and works tirelessly with Equality Diversity and Inclusion to promote all minority care issues- even when this may mean having to challenge old out-dated practice/modes of thinking - being creative in finding new ways of working/teaching and being a visible role model.
Away from work Liz is very friends and family orientated – enjoys cycling and walking as part of her fitness programme and can often be found playing card/board games, quiz's or doing the Sudoku/crossword puzzles in the papers.
Liz supports clients of Freedom Training and Consultancy Ltd who are experiencing their own Transitional Journey, one client said….
'I have spoken to Liz loads, it really helped a lot, she totally gets where I am at in my personal Journey'